TOILET/URINAL DRIPPING SYSTEM
Toilet/Urinal Dripping System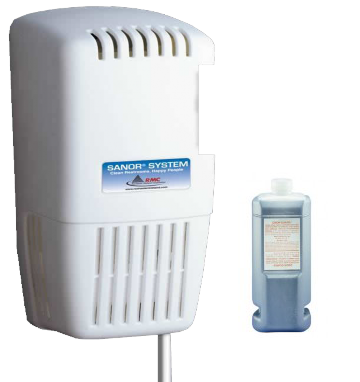 Offers an automatic concentrated drip application as a vacuum is created with every drip via wick & fluid. No need for batteries.
Using exclusive highly concentrated "Odor Counteractant". Thus yielding high usage.
The added assurance of no cross-contamination. Peace of mind to both user & owners of establishments – having a complete sanitized product with 24hr protection.
Combating & neutralizing all offensive odors – keeping urinals and bowls streak-free. Preventing bacteria & lime scale build-up with a pleasant fragrance.
Odor counteractant fluid also maintains bacteria balance in septic tanks.
Key provided to open & close dispenser.
Item: Toilet/Urinal Dripping Dispenser
Name: SANOR Drip Dispenser
Available Colours: White
Available Refills: 1 litre Orange Burst
Dimensions: 11.5" x 4.25" x 3"