Oxy-Gen Powered technology is a clean source of power, producing continuous levels of intense fragrance that contain no propellants, solvents or CFCs- just natural scent.
Deliver consistent and continuous levels of fragrance and odour control for the full life of each refill- 60 Days.
The oxy-gen dispenser uses neutrolox, a proprietary odor neutralizing agent to eliminate, not mask, any bad odors.
Vented sides for effective fragrance dispersal
Visual light indicators: provide refills and battery replacement reminders
Silent operation
Works against gravity so the fragrance oil won't pool or leak
Item: Air Freshener Dispenser
Name: OxyGen Dispenser
Available Colours: White
Available Refills: Glow and Tang
Dimensions: 3" x 3" x 5.5"
Metered Air Freshener Dispenser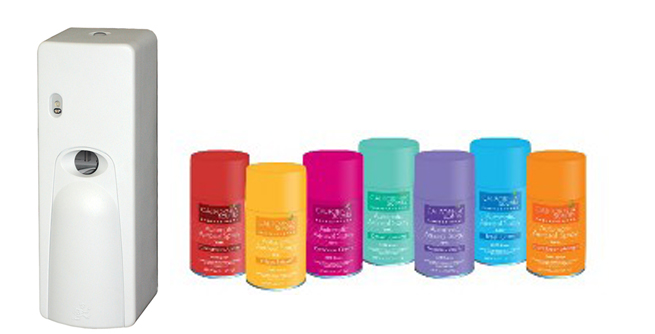 Ensures that areas are always odor free and completely eliminate unpleasant odors in a (6,000 cubic foot area or feet x feet). If room is larger in size, recommend more dispensers
Contains no C.F.C's (chlorofluorocarbon) – environmentally friendly.
Air freshener sprays approximately 3,000 metered sprays. After 3,000 sprays the unit automatically shuts off – protecting the unit from overworking. Motor powered by (2) D-cell batteries.
Sprays go off at timed intervals which can be set accordingly. Ensuring adequate amount of fragrance is released. Thus, not overpowering or fading of fragrance.
Depending on spray times set – can yield 3 to 6 months use. Spray times can be set for either 5days per week or 7 days per week.
Item: Air Freshener Dispenser
Name: Metered Air Freshener
Available Colours: White
Dimensions: 9" x 3" x 3"
Available Refills: Odour Neutralizer, Monterey Vanilla, Coronado Cherry, Desert Jasmine, Caribbean Mango, Citrus Splash, Cinnamon Apple and Fresh Linen